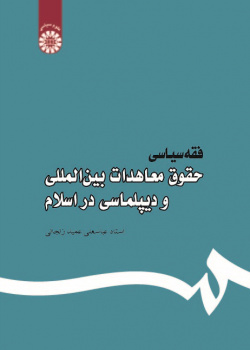 Political Jurisprudence: International Law of Treaties and Diplomacy in Islam
First Print Publication :
2000
12th Print Publication:
2019
Available Languages :
Persian
Among the various topics of Islamic jurisprudence and law, perhaps the sections related to political jurisprudence have more than any other section of jurisprudence, the state of theorizing and the nature of generalization. Theoretical aspects of Islamic international law are more than other topics. Today, the developments after the victory of the Islamic Revolution of Iran and the events and consequences of the establishment of the Islamic system in Iran in the regional aspect and the Islamic world, as well as at the international level can be evidence of the need to apply Islamic jurisprudence. Making international relations contractual is one of the most fundamental solutions that Islam emphasizes in legal discussions. The emphasis is to the extent that, from the Qur'an's point of view, if this principled method fails in international relations, there will be no solution other than armed conflict. The contents of the book are arranged into six chapters. The final part of the book includes an appendix entitled "People of Dhimma"  rulings and sources.